The Mason ID is George Mason University's official ID card and your key to life on campus! The Mason ID is an all-in-one card to access your Mason Money, meal plan, campus facilities, residence halls, Mason shuttles, social and athletic events, and more. No need to carry cash when there are so many benefits! Your Mason ID is also available on your iOS and Android devices. Choose between a physical ID and the Mason Mobile ID.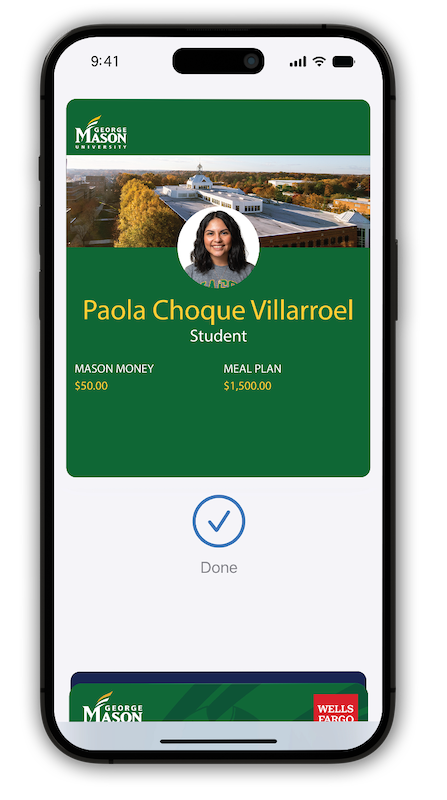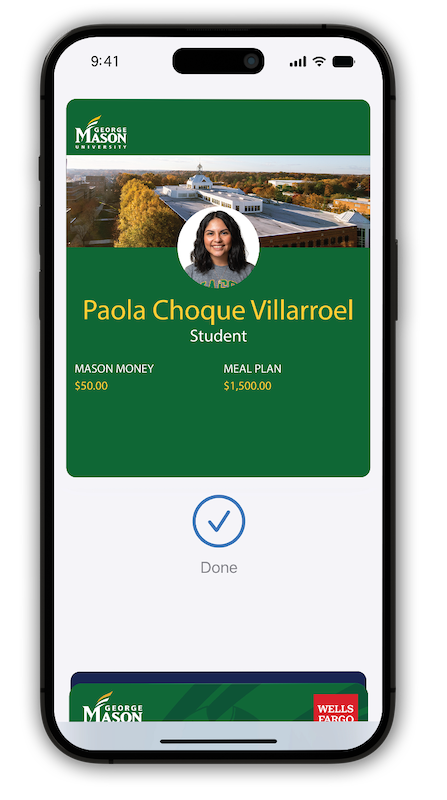 Pickup at Mason Card Office
The Mason ID is for members of the university currently studying or working at Mason. The first Mason ID is free. A card replacement for a lost, damaged, or stolen card is $25 each. To obtain your first Mason ID, follow the instructions below to complete the steps.
Any special requests for exceptions must be submitted to Mason Card Office in writing, including name, G Number, and mailing address. Requestors will be notified by mail of the University's decision. Retakes at an individual's request will be subject to the $25 replacement fee.
A neutral-colored or white background with proper lighting without shadows.
The subject's expression should be natural, with both eyes open. Side or angled views are NOT acceptable.
Applicants must face forward with any distracting articles and objects out of view. The picture must be of the head and shoulders only.
eyes should be open and visible – prescription glasses are allowed.
Sunglasses or other articles which obscure the face are not acceptable unless required for medical reasons (an eye patch, for example). In cases of medical necessity, a note from a healthcare provider must be presented before the picture can be taken. A replacement ID should be created as soon as the item is no longer required.
Hats or other head coverings are acceptable only when required by religious beliefs, tenets, traditions or customs, and may not cover any portion of the applicant's face.
Another form of ID issued by a government or civil agency should be provided in support of the request. (Photographs of applicants wearing tribal, national costume, or other headgear not specifically religious in nature are not acceptable).
Fairfax Campus

Mason Square

SciTech Campus
Office Location
Student Union 1, Room 1203
4469 Aquia Creek Lane
Fairfax, VA 22030
(703) 993-1004
masonid@gmu.edu
Mailstop: MSN 5A5
| | |
| --- | --- |
| Monday | 8:30 am - 5:00 pm |
| Tuesday | 8:30 am - 7:00 pm |
| Wednesday | 8:30 am - 5:00 pm |
| Thursday | 8:30 am - 5:00 pm |
| Friday | 8:30 am - 5:00 pm |
Office Location
Van Metre Hall, Room 220
3351 Fairfax Drive
Arlington, VA 22201
(703) 993-2095
arlops@gmu.edu
Mailstop: MSN 5A7
Hours of Operation
Monday
By appointment only
Email arlops@gmu.edu
Tuesday
Noon - 7:00 pm
Wednesday
Noon - 7:00 pm
Thursday
Noon - 7:00 pm
Friday
By appointment only
Email arlops@gmu.edu
Office Location
Beacon Hall, Room BE 1034
10945 George Mason Circle
Manassas, VA 20110
(703) 993-7040
Temporary 30-minute parking in front of Beacon Hall
Mailstop: MSN 5B8
By Appointment Only
Email: ulscitech@gmu.edu
Call: 571-245-4410
| | |
| --- | --- |
| Monday | 9:00 am - 5:00 pm |
| Tuesday | 9:00 am - 5:00 pm |
| Wednesday | 9:00 am - 5:00 pm |
| Thursday | 9:00 am - 5:00 pm |
| Friday | 9:00 am - 5:00 pm |
To pick up a Mason ID at the Loudoun Campus:
Contact (703) 993-4350 or email loudoun@gmu.edu to arrange a pickup appointment. Please provide your G number and email address during scheduling.
Applicants will receive an email notification when pickup is available.
Pickup Location
Suite 130
21335 Signal Hill Plaza
Sterling, VA 20164
Bring a government photo ID and your G number to pick up the Mason ID at one of the Mason Card Offices in Fairfax, SciTech, or Mason Square campuses.
Bring a government photo ID and your G number to pick up the Mason ID at one of the Mason Card Offices in Fairfax, SciTech, or Mason Square campuses.
Use your Mason ID to access services on campus, including dining halls, printers, mailboxes, shuttles, vending machines, health centers, libraries, and more!
Gain keyless access to authorized spaces, office buildings, and residence halls with your Mason ID.
Receive free or reduced-price admissions for sporting events, fitness facilities, social events, as well as shows and performances on campus.
Make cashless purchases and earn exclusive discounts at retail stores, restaurants, and grocery stores on and off campus.
Manage Your Mason ID ACCOUNT
You can manage your Mason ID, meal plans, and Mason Money with personalized settings, such as:
Adding up to 10 guest accounts
Checking account balance and recent transactions
Making deposits or requesting money
Setting up low-balance warnings
Activating/deactivating your account
The OBS Tech provides attendance readers and transaction hardware for tracking event attendance and assisting Mason Money transactions. The devices are available to rent for Mason departments, student organizations, and off-campus Mason Merchants. 
The attendance reader is a cloud-based system that allows campus departments to gain attendance and demographic data for events, classes, or other services. After attaching a USB tap reader to a laptop, users may collect customer information by tapping the Mason ID on the reader.
Service providers who wish to accept Mason Money as a payment solution may rent a wireless reader. Available for campus departments, student organizations, and external partners, the reader provides a simple transaction solution for customers who wish to pay with Mason Money.
Do not delete this section. An active widget is here.